RoadWorks – Hannah Minzloff
April 12 – July 6, 2018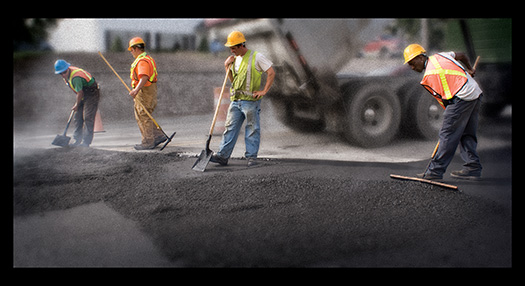 Bedford Highway, Hannah Minzloff, 2011
Scenes of workers at work sometimes can transcend the ordinariness of their tasks to become art. Dartmouth photographer Hannah Minzloff captured images of Halifax Regional Municipality road crews to extract new and deeper meaning from familiar images.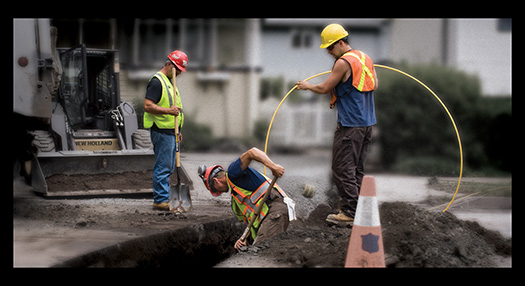 Pleasant Street 1, Hannah Minzloff, 2011
About RoadWorks, from Hannah Minzloff:
The natural tableaux and the everydayness of the events I have captured in RoadWorks explore the ephemeral intersection of time and place in the public sphere. Within each frame, the photographs in RoadWorks show modern-day labourers at work in the Halifax Regional Municipality, Nova Scotia.
With RoadWorks I am attempting to realize moments of timeless significance in a modern setting. Within each frame, the images in RoadWorks capture organically forming tableaux of modern day labourers that illustrate the collaborative nature of the work they undertake.
 
Time appears to have little meaning during the process of road construction, things happen in a slow motion dance, each road construction worker having their turn at centre stage for a solo performance at a key moment, while others unconsciously arrange themselves into living friezes.
Viewers mimic this action by unintentionally creating their own tableaux while they interact with the installation.
Biography
Hannah Minzloff lives and works in Dartmouth, Nova Scotia where she is actively involved in the local arts community.  In 2012 she received a Presentation Grant from Nova Scotia Tourism, Culture and Heritage, in 2009 she was short-listed for the Mayors Award of Distinction: Contemporary Art.  Her work has been exhibited locally and nationally, has been purchased by the Art Bank of Nova Scotia and is in private collections around the globe.
Hannah first studied photography in Montreal under the guidance of Clara Gutsche & David Miller.  With an interest in mastering the technical elements, she worked in photography studios in Montreal, Toronto and then Munich, returning to Toronto in 1994 to earn a BAA in Stills Photography at Ryerson University.  Throughout her career as a photo-based artist Hannah has continued to pursue both an aesthetic vision along with specific inquiries into digital imaging and design, to allow herself to grow in a contemporary world of image making and to give voice to her vision.
Hannah brings strong connections within the artistic community in Nova Scotia to her work through current roles as an artist, arts educator, and board member of Visual Arts Nova Scotia, along with past roles as president of ViewPoint Gallery Photography Co-operative, board chair and festival organizer for Photopolis – the Halifax Festival of Photography, and as advisory board member for both the Dalhousie University Art Gallery and the Craig Gallery.
Artist Statement/artistic practice
I am a portrait maker, of people and communities, recording ordinary moments in people's day to day lives through photography and filmmaking.  In my practice, be it making work, facilitating workshops, or giving talks, I have a keen interest in strengthening community through the process of making art.
The presentation of my photographs is a dialogue between viewer and idea, with exhibitions aimed at direct forms of connection with the public as illustrated by the following bodies of work:
Printed on mylar and backlit, the black and white photographs in UNDERGROUND (2008), which inquires into the transient notion of human contact whilst travelling on the subways of Paris, London, Berlin, Munich, Montreal, and Toronto, were installed in the advertising spaces of public transit in Toronto and Halifax.
Emphasizing the integrity and beauty in the labour of summer work crews, the 3'x6' RoadWorks (2011) photographs were illuminated, and installed in pedestrian zones at night.  Viewers mimicked the workers' frieze-like arrangements by unintentionally creating their own tableaux while interacting with the images.
Who is a Stranger? (2014), and Are We Really Strangers? (2015), both audience-engagement exhibits installed during Nocturne Art at Night, examine relationships between people who have just met. By bringing members of the public into our pop-up studio, giving them time to connect, and inviting them to reach out to a broader population through a virtual connection network map we were able to reveal personal links that were previously unknown.  This project is a collaboration with the Dalhousie Computer Science Lab.