Joseph Howe at Albion Mines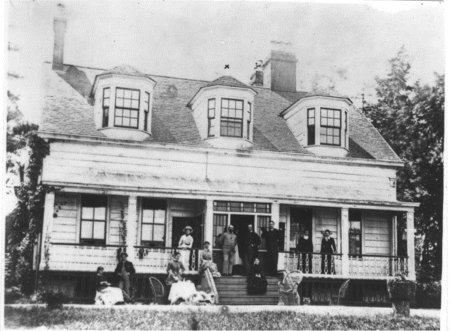 Caption:
Mount Rundle, undated, Museum of Industry collection, I91.32.604.
"Be it known gentle Reader … that Mount Rundle is a pleasant little seat, overlooking the Albion Mines, where the [coal company] superintendent resides…. The best view of the whole mining Establishment is to be had from the windows of Mount Rundle."
So wrote Joseph Howe, whose "eastern rambles" caused him to journey to this new industrial area (now Stellarton, Pictou County) on 21 July 1830. Albion Mines was a coal mining settlement established just three years earlier by the British company The General Mining Association (GMA). By bringing experienced coal miners, English mining and steam technology, and money to build an integrated coal mining industry, the GMA brought the industrial age to Nova Scotia. Nowhere throughout the colony could be found such an ambitious undertaking. Since Howe knew the view from Mount Rundle's windows, and because the GMA would have welcomed the positive publicity Howe was certain to provide as an advocate of progress, it is likely Howe stayed at Mount Rundle during his visit and dined with the mine manager Richard Smith and his family.
What Howe Saw at Albion Mines
Always a promoter of Nova Scotia's possibilities, Howe did his part by providing a detailed description of the mining establishment. His words painted a vivid picture of this "seat of industry and art" with the well-stocked store, the pits with coal lying in piles around them, the steam machinery, the "lofty chimney, through which a stream of smoke is continually rushing…" the railroad (one of the earliest in North America), the extensive foundry with three divisions of operation, and the six large coke ovens. In inspecting the iron foundry where so many iron items were made that were needed for the operation, Howe would have stood on what is now our museum grounds.
Going down down
To generate even greater interest in this endeavor, Howe provided a detailed account of his descent into the coal mine, entreating the reader to come along with him:
"and now we intend to give you a plunge into the bowels of the earth. But, first lay aside your coat, and envelope your shoulders in this pea jacket … for depend upon it, the niceties of dress are but little regarded in a Coal Mine. Jump upon that sled, seize hold of the chain, and you shall presently have a beautiful representation of the infernal regions as is to be found in any Poet from Dante to Milton. Up we go for a foot or two – away slides the scaffold – and now, my gentle Traveller, you are suspended over the mouth of the pit, and should any part of the tackle give way, you have just about thirty seconds to say your prayers, before you are dashed to the consistence of a jelly, at a distance of 240 yards from where you at present hang."
 "… there is a sort of inexpressible something that gives the spirits at least a momentary flutter as we descend, and gives a buoyancy and lightness to the mind when we find ourselves again restored to firm footing upon the surface."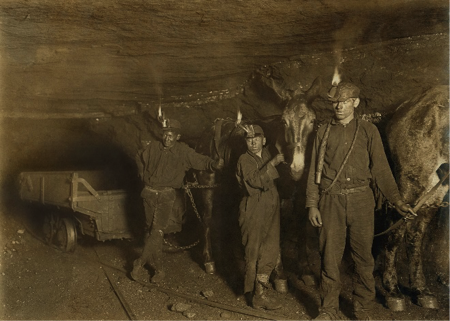 Caption:
In visiting the coal mine, Howe would have witnessed a scene like this one. See the flames flickering on the caps of these miner boys? Drivers and Mules with young laborers in a West Virginia coal mine. Lewis Hine, 1908.
"… wait until the guide who has accompanied you in your passage, trims his lamp and takes the lead, or mayhap you may bump your shins against a block of coal … For the first five minutes you can discover nothing; then you begin to see, as 'through a cloud darkly' … And now you discern a lot of Beings, looking more like Demons than men, with their loose trowsers tucked up to their knees, their bodies protected by a flannel shirt … each has a small lamp suspended by a wire to the front of his cap – making them look like the Cyclops, who had but one glaring eye in his forehead…."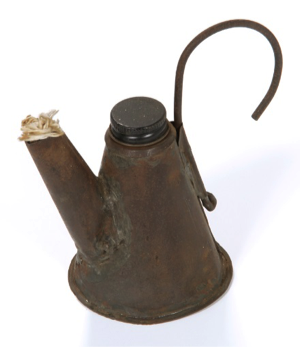 Caption:
"A small lamp suspended by a wire to the front of his cap" would be a bicket lamp like this one. Museum of Industry collection, I91.32.307
All excerpts of Joseph Howe at Albion Mines are from:
Howe, J. (Parks, M. Ed.). (1973). Western and Eastern Rambles Travel Sketches of Nova Scotia. Toronto: University of Toronto Press.