Other Locomotives in our collection: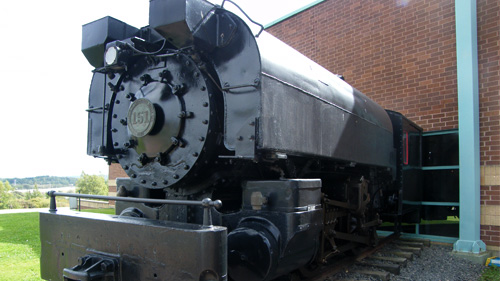 Loco 151
Locomotive 151 greets visitors as they approach the Museum of Industry. It actually appears to be emerging from the side of the building, but it is no runaway train.
Facts:
Gauge: 36"
Type: 0-4-0T
Built 1942 at Montreal Locomotive Works
Built for Dominion Steel, Sydney Steel Division.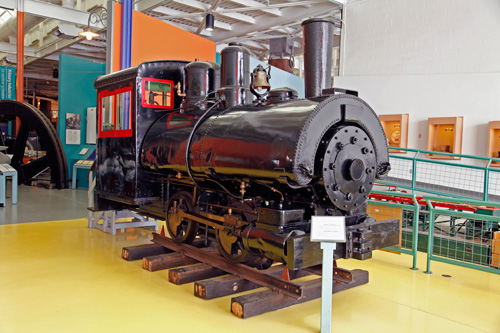 Locomotive No. 5, Baldwin
"The Cute One"
Small industrial locomotive used at the industrial yard, Nova Scotia Steel & Coal Co (later Dominion Steel & Coal)., Trenton Works, Trenton.
Facts:
30" Gauge
Type: 0-4-0T
Made by the Baldwin Locomotive Works, Philadelphia, 1917.
Please note the following locomotives are not on public display.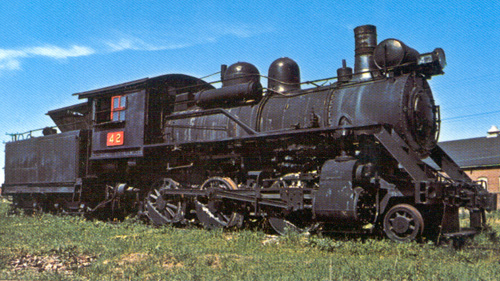 Locomotive 42
Locomotive 42 is a sentimental favourite of many people in Pictou County and Cape Breton. Built at the Schenectady Locomotive Works in 1899, it was acquired by Dominion Coal in 1901, then carrying the number 16 as a 2-6-4T. It seems to have been built as a tank locomotive and later converted to a tender locomotive. It became Locomotive number 42 in 1952 and ran on the Sydney and Louisburg Railway until 1955 when it came to Stellarton to work for Acadia Coal.
In 1963 it was collected by a local railway enthusiast and it was featured in a commercial for a local paint company, adding to its fame.
From 1973 to 1979 Locomotive 42 ran on the Cape Breton Steam Railway, a tourist line, between Glace Bay, Victoria Junction and Port Morien, with occasional special runs to Iona. Locomotive 42 was later leased to the Salem and Hillsborough Railway until 1983 when it was donated to the Nova Scotia Museum.
Facts: Standard Gauge.
Type 2-6-0
Built by: Schenectady Locomotive Works, 1899
Last used: Acadia Coal Co. Ltd., Stellarton, 1963.
Re-tubed and operative: Cape Breton Steam Railway 1973-79
Re-tubed: 1980
Links: Sydney & Louisburg Railway Historical Society official site. 
Background on the Cape Breton Steam Railway
 
DEVCO 20 This diesel locomotive shunter was purchased by the Cape Breton Development Corporation (DEVCO) in 1969. Built in 1940 by General Motors, it is one of the oldest surviving diesels in Canada. A General Motors controlled company, Electro-Motive Co., had been making diesel locomotives since the 1920s, the experimental era of the technology.
The transition from steam to diesel-powered locomotives on Canada's rails happened gradually starting in the 1940s. In 1948 there were 4,340 steam locomotives and only 148 diesel. By 1957 almost half of the steamers were gone while diesels were up to 2,300. By 1963 both CN and CP considered themselves completely dieselized.
Facts:
Model: D-781 EM
Manufacturer: Electro-Motive Co. (Division of General Motors) LaGrange, Ill.
Weight: 44 tons
Serial Number: 1134
Class: 0-4-0