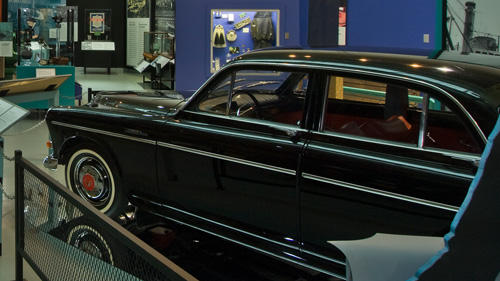 The cars we have represent some firsts for the province and for Canada. We have Nova Scotia's first gas-powered car, the province's first production car, and the first Volvo built in Canada.
Early Nova Scotia automotive innovators were not far behind many of the US inventors. The Victorian, first gas powered car in Canada's Maritime Provinces, was built around 1900, about the same time that Ransom E. Olds was making his first, very similar, gas-powered production cars. 
Nova Scotia auto production defied the pattern seen in Ontario where early manufacturers entered the business by making Buicks and Fords under license from the American companies. The McKay brothers started making their own cars in Kentville in 1910, importing engines from the US but designing and promoting their own production automobile. For a few years they were competing with the American Packards and Fords that were entering the local market.
By the 1960s the Nova Scotia government was offering incentives to foreign manufacturers to come here and create employment. The Volvo assembly plant that opened in 1963 was one of their great successes.