The Museum of Industry is especially geared for lots of family fun. There is room to move around, opportunities for kids to push, pull, lift, discover. And ... trains, trains, trains!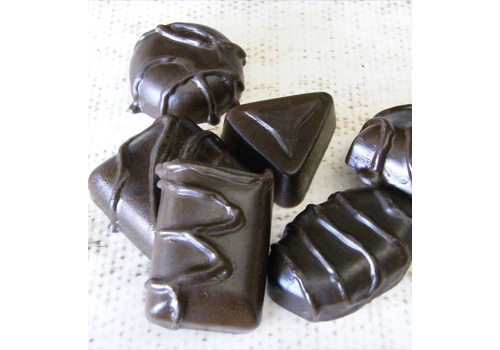 How fast can you box these chocolates if the box is moving? Visit us to try our assembly line game.
Stuff for kids
The kids will no doubt find our kids' train as soon as they enter the museum. Overhead is another train, circling the concourse. Heads will tip and fingers will point as they tell you about that one. In the exhibits they will rush to the water tower, the water pump-ups and the HO scale model train, the chocolate assembly line game, all in the Upper Gallery; in Time Out (at the bottom of the ramp) if they haven't gotten enough of bell-ringing on the kids' train, they will love to ring the bell on a real locomotive; for the older kids there are multimedia computers at the end of the gallery (they will think they are antiques). Of course there are lots of toys and games and the ever-popular "tired horse swing" to try out in our gift shop.
Stuff parents should know:
Hours
The Museum of Industry will be open year-round. 
Effective November 1 to April 30, open Tuesday to Sunday 9:30am to 4:30pm
May 1 to October 31, open daily 9:30am to 4:30pm
Open Heritage Day, Feb 20 from 9:30am -4:30pm.  Free admission on this day.
Call 902-755-5425 for holiday hours.
How long does it take to go through the Museum?
Most visits take 1 to 3 hours. Some visitors stay all day!
Can I drop off my children at the Museum?
Children under 12 years of age must be accompanied by an adult during their visit to the Museum.
Can I get a stroller or wheelchair at the Museum?
Strollers and one wheelchair are available free of charge on a first-come-first-served basis at the Reception area. They cannot be reserved.
Does the Museum have food service on site?
Food service is not available on site. Many dining choices are available nearby.
Family Admissions fees as of May 2013
Family $18.35 (2 adults & their children under 18yrs). Children under 5yrs are free!! Free admi.ssion until August 31, 2021​
Nova Scotia Museum Pass Program
Family passes are available and provide you with unlimited visits to our family of provincial museums for one full year. Purchase one at the Museum of Industry or phone 1-800-632-1114.
Family pass $92.65  (2 adults and their children under 18 years)
Washrooms:
There are changing tables available in our washrooms.
Accessibility:
The Museum of Industry is wheelchair accessible. Accessible parking is provided at the main entrance, and there are automatic doors, accessible washrooms, and an elevator to the mezzanine level.
Parking:
Over 150 free parking spaces with easy access to the site for RVs.