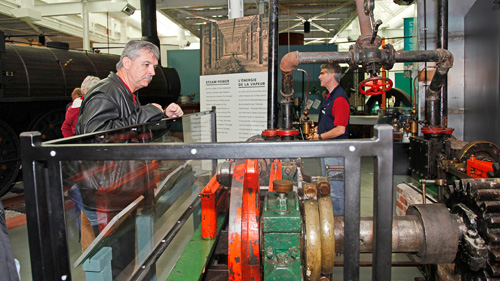 If there is something in particular you are hoping to find at the Museum of Industry, perhaps these tips will help you locate it. If you are interested in:
Stuff for kids: see Kids and Families
Motive power: see (Upper Gallery): water power, steam power, and (Lower Gallery:) electricity exhibits. We have some fascinating early steam engines like the Davies which was built in Pictou and used to haul boats for the Sydney Marine Railway. During the summer season we have interpreters who can show you the engines in action running on compressed air.
Women's history: (Upper Gallery): the crafts area with displays and demos of the skills women in the home needed in the past; Nova Scotia pressed glass, a product of Nova Scotia and a real collectible; (Lower Gallery): electrifying the home describing the introduction of electrical appliances, radio, and electric water pumps; women and war work – yes, Nova Scotia had their Rosies; office work showing the change from men to women in clerical jobs; textiles (women did much of the work in our woollen and cotten mills); tourism – women were involved in creating the promotional films and, as tourists, in choosing destinations; and Coal and Grit , where housewives and widows describe daily routines, demonstrating on picket lines, and life's hardships and joys.
Tools and machinery: You can find tools, equipment and machinery throughout the exhibits, with the oldest at the beginning. Of particular interest might be our belt-driven machine shop, with machine tools dating from the 1870s.
Things made in Nova Scotia: You would be surprised at the number of things we made in Nova Scotia. See the alphabetical list to the right for a sampling. Our exhibits contain about 200 products made in Nova Scotia. Can you find them all? Hint: some are actually the machines and equipment used to make /do other things.
Locomotives and railways: Four of our nine (not counting the kids's train!) locomotives are on display (sorry, the others are in off-site storage). (Upper Gallery): Samson, an 1838 British goods locomotive; Locomotive 151 (it is outside – you can see it through a window. The ingot train it pulled from a steel mill is on display inside; (Lower Gallery): Locomotive 5, a steam yard locomotive; (Visible Storage:) Albion, a British goods locomotive dating from the 1850s. We also have an HO-scale model railway set in a remarkably detailed industrial landscape. Don't forget to look up when you enter our foyer to see our G-scale train circling overhead.
Cars: The three automobiles in our collection are all on display. (Upper Gallery): the Victorian horseless carriage, an early experiment by a furniture-maker, the McKay 1912 7-seat roadster, one of Nova Scotia's few examples of factory production of automobiles; (Lower Gallery): Volvo Canadian, the first to roll off the assembly line at Volvo's Nova Scotia plant in 1963.
Hands-on fun: (Upper Gallery): hoist the log with a block and tackle, lift a housewife's cast iron pots as she did several times a day in the early 1800s, caulk a vessel, feel the power of falling water, pump up a reservoir of water to move the water wheels and power miniature equipment. There's even more fun ahead: activate our model train, get to work boxing chocolates on our assembly line. (Lower Gallery): ring the bell on Locomotive Number 5; push a button to hear early radio broadcasts, assemble a wartime ammunition shell (not the real thing!), choose a hair style in our hair-dressing area; stop for a photo op in our tourism display, and explore the origins of multimedia on our computers.
Our Changing World: So many of our artifacts are everyday objects, not only tools, but household items like electrical appliances. Changes in technology and the way we work have a huge impact on everyday life. This is reflected in exhibits like the miner's house kitchen and Electrification. Older visitors enjoy the nostalgia of seeing once familiar objects again and younger visitors are amazed by how different life was for their grandparents.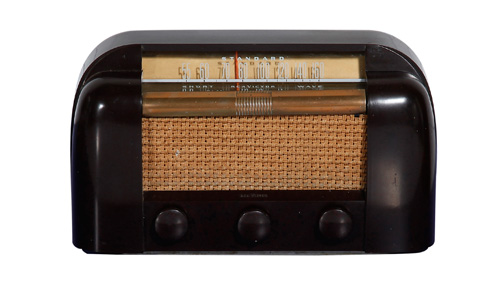 More artifacts: Spy many more artifacts on the shelves of Visible Storage on the landing on the mezzanine (you can also get there on the elevator). When you look in the window you can see get a sense of just how big our collection really is.
Genealogy Sleuths: If you have roots in the coal fields of Pictou County, the Coal & Grit exhibit may add a limb or two to the old family tree. We have an extensive collection of photos of miners on display and many are identified by name. Many visitors have been thrilled to find out at last what great-grandpa really looked like.  Nova Scotia Historical Vital Statistics