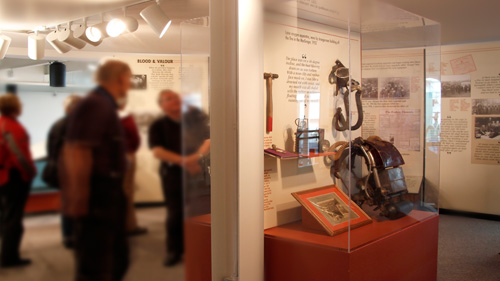 Rich in photographs and first-person quotes, Coal and Grit tells the story of the history of coal mining in Pictou County, Nova Scotia, (including the place where the Museum of Industry is now located,) from the early 1800s to 2008.
The museum is very interesting and the display of mining activities is very in depth and gives a person a real insight into the dangers of that type of work."
- Lennoxville, Quebec
"Enjoyed it all, but particularly the section on the Westray mine disaster. My heart aches for all the families and coming here and visiting the monument and the museum has helped bring me close to it."
- Yarmouth, Nova Scotia
"Especially liked the coal exhibit and the fact that the story was told as an individual speaking". - Tucson, Arizona
Discover more about this exhibit on our web site at Coal and Grit.
Note: This is our only exhibit to not offer bilingual text; a French-language brochure is available for those who would prefer to explore it en francaise.