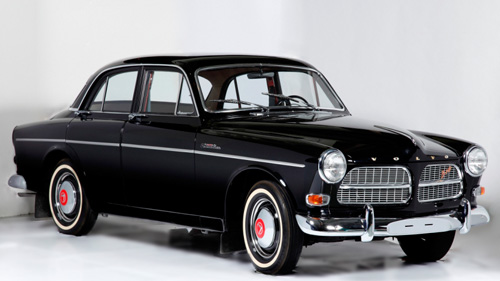 When the first Volvo rolled off the assembly line at the newly opened Dartmouth plant in 1963, the last screw was tightened by Prince Bertil of Sweden using a ceremonial gold-plated screwdriver.
The opening of the plant, Volvo's first outside Sweden, was greeted with much fanfare by the both the local and national media. It was a victory for Industrial Estates Limited (IEL), a provincial crown corporation set up in 1958 to attract more manufacturing businesses to Nova Scotia.
Volvo was looking for a chance for greater access to the North American market and with the attractive incentives offered by IEL, Nova Scotia presented an offer too good to refuse. They were given a deal that allowed them to bring in the parts duty free.
The car on display at the Museum of Industry is a special edition called "The Canadian" to appeal to its newly adopted market. It is a B-18 model four-door sedan with a red interior. It was given to Nova Scotia's Trade and Industry minister who drove it as his official government vehicle for several years. It was donated to the Nova Scotia Museum in 1967.
In 1991 it was restored by Volvo technicians working with Museum of Industry staff.
The original Nova Scotia Volvo factory was set up in an old former sugar refinery on the Dartmouth waterfront, Four years later they moved to a larger facility in Halifax and then, decades later, to a state of the art plant at Bayers Lake Industrial Park, Halifax. The new factory had the capacity to produce 8000 cars a year and employed 200 workers. Parts from Sweden were shipped to Halifax via container ship. The cars were transported to markets in the US and Canada. The plant closed in 1998. due to Volvo's excess manufacturing capacity internationally.