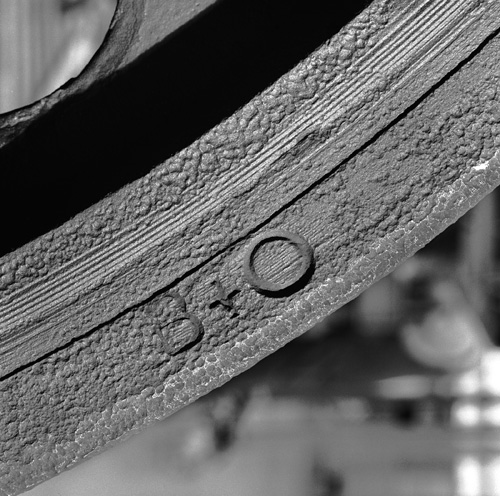 When Samson became part of our collection we knew the locomotive needed some tender loving care to stop deterioration, to preserve it, and to prepare it  for display. We called on steam locomotive experts to assess it for completeness and to recommend a course of treatment. Because of Samson's history, it could have suffered substantial alteration or removal of key components. We wanted to know all we could about what is one of the world's oldest surviving steam locomotives.
Samson was assessed as being in generally good condition, its wheels still turned, but its boiler was no longer operational. We discovered that there were some minor components missing, that it had had tires replaced while residing at the B&O Railway Museum in Baltimore, but had not undergone any serious changes and therefore was still very much a Hackworth engine.
The Samson project followed our conservation process and procedures. Missing parts were made and clearly identified as not being original. A few severely-deteriorated components were conserved, but due to their delicate state, were put into storage for future study. Replicas replaced them on the locomotive.
Samson came to us painted green and cream. We determined that that paint job dated from the 1950s and there was no historical evidence that it was ever previously that colour. Since the paint was to be removed in order to stabilize her cast and wrought iron, the curatorial decision was made to return Samson to more likely colours. Being a coal -burning freight locomotive of the 1830s, it probably was black, and even its mahogany boiler covering (lagging) would have darkened with soot over time.
Stripping away the modern paint job and dismantling the locomotive to apply rust removal and inhibitors revealed additional information. Four styles of rivets held it together, the initials of workers were hammered into it, and some repairs had even been done from inside the boiler, a space large enough for only a small boy.
Further study of the documentation associated with this project is likely to yield more telling hints of Samson's past.