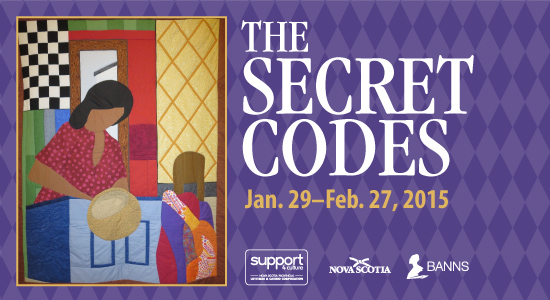 Jan. 29, 2015 – Feb. 27, 2015
In partnership with the Vale Quiltmakers Association and the Black Artists Network of Nova Scotia (BANNS,) the Museum of Industry proudly presents the skillful and creative work of African Nova Scotian residents primarily from the local Pictou County area.  Evoking historic quiltmaking traditions associated with storytelling, the quilts on display capture motifs reflecting the experience of African Nova Scotians. The patterns derive from a collection of drawings created by artist David Woods who travelled Nova Scotia's Black villages collecting stories and artwork. Each quiltmaker chose from these designs a pattern that reflected their own lives and interpreted it through quiltmaking. The results are a stunning feast for the eyes and an opportunity to explore African Nova Scotia culture.
We gratefully acknowledge Support4Culture, a designated lottery program of the Nova Scotia Provincial Lotteries and Casino Corporation, as the sponsor of The Secret Codes at the Museum of Industry. We are pleased to have this opportunity to promote our cultural resources for all Nova Scotians.