July 5 – October 31, 2019
On loan from a private collection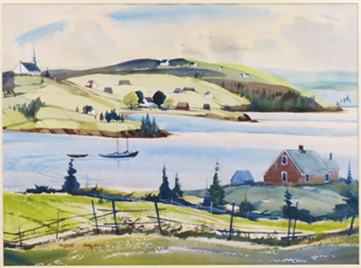 Cheticamp, Cape Breton, Joseph Purcell, 1960. Photo courtesy of Gordon MacDonald
This summer we are featuring a unique collection of watercolour paintings of Cape Breton scenes assembled together for the first time. The Silver Dart collection was commissioned from well-known Nova Scotia artist Joseph Purcell (1927-2018) for the innovative Silver Dart Motel, built on the shores of the Bras d'Or Lakes in Baddeck in 1960. The inspiration behind this collection allows us to explore the tourism industry at that time.
An Ultra-Modern Motel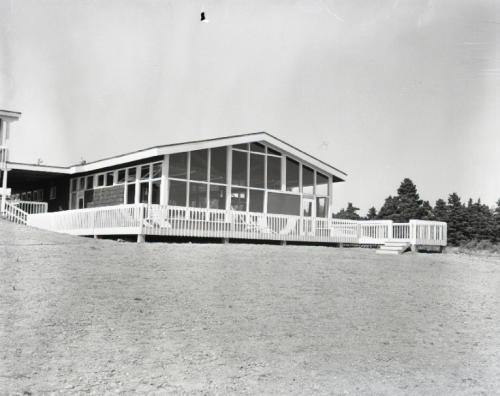 The Silver Dart Motel at Baddeck, 1960. Photograph by Abbass Studios. Reference Number: A-6051. Beaton Institute, Cape Breton University.
In 1960, Lilias Toward had a vision of creating ultra-modern accommodations and a special experience for tourists in Baddeck, Nova Scotia. To ensure it was chic and "ultra-modern", she relied on new Canadians to create a European atmosphere. Her choices included Danish Modern furniture by Georg Jensen Canada, Swedish materials for the curtains, German designs in teakwood for the reception desk and foyer teak panelling, and a tapestry from a recent Polish immigrant. To root the experience in local surroundings, she commissioned 35 original watercolours – one for each of the motel's 32 rooms, and 3 to hang in common areas.
Well-known Nova Scotia artist Joseph Purcell received this commission. According to a Halifax newspaper, "… for some to see this collection … is well worth a special visit."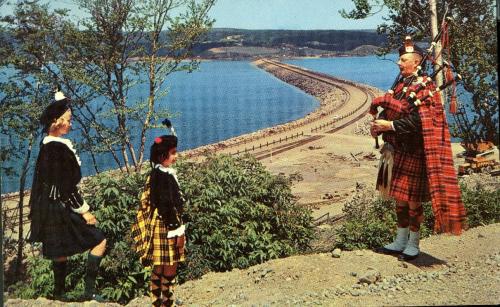 "The Road To The Isles Causeway", connecting Cape Breton to the Mainland of Nova Scotia at the Strait of Canso. Postcard image courtesy of Debra McNabb.
The Artist
Joseph Purcell (1927 – 2018), received his art training at the Nova Scotia College of Art. Early in his career, he developed a style of his own with dramatic use of light and composition. He was familiar with Cape Breton scenes when Lilias Toward asked him to create this series, having visited on his honeymoon when he and his artist wife Tela each crafted 26 paintings.
According to Mrs. Toward, Purcell felt that the Silver Dart Collection, "represents the best he has achieved to date (1960) in the difficult medium of water colour". Purcell went on to have a successful career and a gallery in Lunenburg, NS. He often chose Nova Scotia sea and landscapes as his subject matter.
Serving the Tourist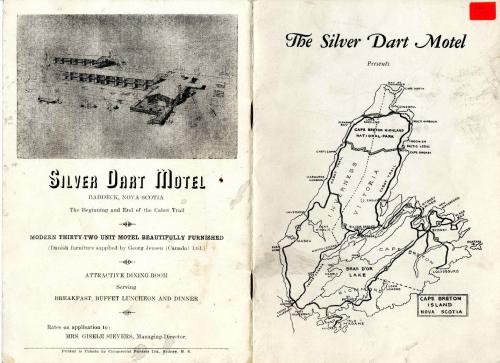 The Silver Dart Presents … Tourist Guide produced by the Silver Dart Motel and offered to its guests in 1960. It provided advice and descriptions of a series of day trips leaving from the motel. Pamphlet 1572 Silver Dart 1960. Beaton Institute, Cape Breton University.
In addition to aspiring to give her guests "… all the joy and pleasures of a beautiful home in a perfect setting", Silver Dart Motel owner Lilias Toward was an enthusiastic promoter of the beauties and attractions of Cape Breton Island. In 1960 guests were offered a 23-page pamphlet with a series of day trips starting and ending at the motel, including distance, time and route, as well as advice on hunting and fishing trips and boat excursions. She truly did extend Ciad Mile Failte (one hundred thousand welcomes).