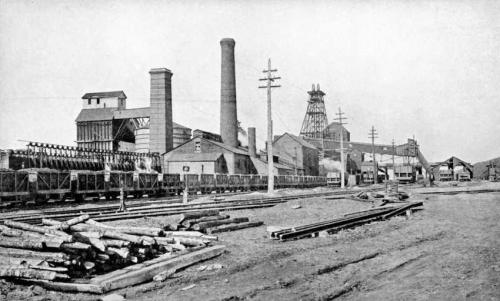 Princess Colliery, Sydney Mines, 1916. Reference number: 80-31-4211. Beaton Institute, Cape Breton University.  
Unusual Hoist Cable
In the Princess pit at Sydney Mines, transport to the workings was two-step. The miners went down the shaft about 750 feet in a cage (elevator), then transferred to a rake that took them down the slope.  The hoist operating the rake was on the surface so its steel cable had to cross the ground, travel down the shaft, then to the slope where it was fastened to the rake. Its route was guided by a series of pulleys and wheels. This was instead of a normal slope hoist with cable unfurling straight down from a single drum. On December 6, 1938 the steel rope on the man-rake broke and the rake went hurtling down, reaching a speed of 129 km/hr until it jumped the track, piled up, and smashed. The broken cable came slashing and sparking behind, slicing through the men. The result was the horrific death of 21 miners and the hospitalization of 41, while 20 more recovered at home.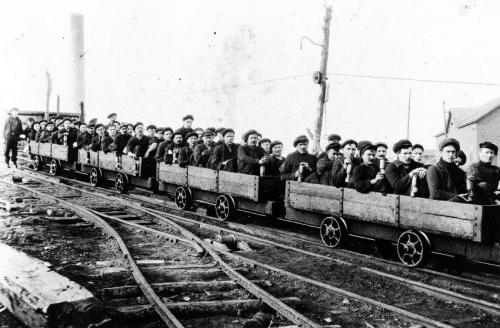 Donkin Miners, ca. 1925. Reference number: 86-68-16165. Beaton Institute, Cape Breton University. The wheeled cart that carried miners is called a rake.  
Cause of the accident
The Inquiry was unable to conclude what caused the runaway. A few theories were posited at the hearings, the most likely being a kink in the rope. The suggestion that the rake was overloaded was contradicted by an expert. Among the Inquiry's accepted recommendations was that the man-rake engine be moved underground to the top of the haulage slope, "in keeping with proper mine practice (and) will remove the dangers inherent in the large number of wheels" on the route. The Deputy Minister, acting as a special investigator, found "no culpable negligence".