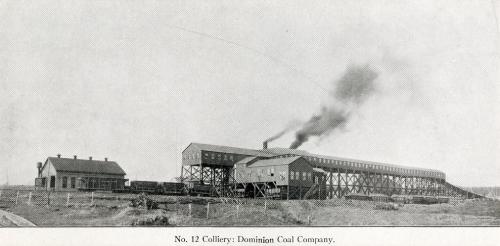 Dominion No. 12 Colliery, New Waterford, ca. 1916. Reference number: 80-37-4217. Beaton Institute, Cape Breton University.
Worst Cape Breton coal mine disaster
The worst ever disaster in Cape Breton happened in Dominion No. 12 Colliery, New Waterford at 7:30 am on July 25, 1917.  270 men were at work when an explosion occurred in a crosscut being driven between two rooms in #6 West level. 
62 miners were killed either outright by the blast, or by the afterdamp, and three 17-year-old surface workers who went down to help were asphyxiated by carbon monoxide. The 208 men working elsewhere in this extensive mine were mostly unaffected and escaped. 
Cause of the explosion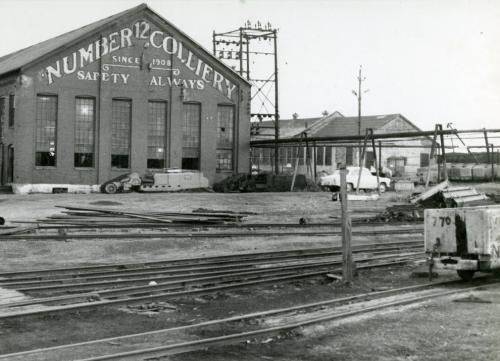 Number 12 Colliery/ Since 1908 / Safety Always, MOI Collection I91.64.8.
The follow-up Investigation discovered the circumstances of the explosion. To finish opening the crosscut, the face had been prepared for blasting:  undercut, holes bored, and explosives placed. It was not known that behind the shot hole was a cleavage in the coal. When the shot was fired, instead of bringing down the coal, the force of the explosive took the path of least resistance, flaming down from the back of the hole, through the fault, and out the undercutting, into the dead-end crosscut. The flame exploded methane accumulated there and, fueled by more methane and/or coal dust, roared through the level and beyond to No. 7 level.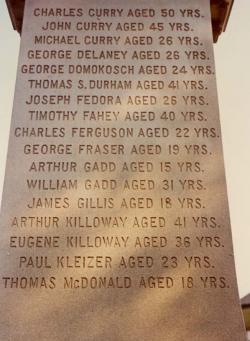 Miners' Monument, New Waterford, 1977. Reference number: 78-42-1792. Beaton Institute, Cape Breton University.
Negligence and Injustice
Methane will build up where there is no air flow, like in this partial tunnel which had not been vigilantly tested. Moreover, witnesses revealed that excessive gas was a problem overall in No. 12. The Coroner's Jury found that there were dangerous levels of methane in the mine, the result of inadequate ventilation. Because of the "gross irregularity of mining", they found mine officials guilty of gross negligence in the deaths of the 65 men. 
Because the investigation had identified violations of the Coal Mines Regulation Act, the Amalgamated Mine Workers of Nova Scotia charged Dominion Coal and three officials with criminal negligence. It took a year for the trial, in front of a judge who was in blatant conflict of interest, having previously worked on the case at his former law firm, on behalf of the Dominion Coal Company. The Crown attorney, who had also previously represented the coal company, brought in no evidence against the defendants. The judge was successful in his directions to the jury to find the defendants "not guilty".